Hours: Mon – Fri, 9 AM – 6 PM
Weekends & Holidays: By Appointment Only
Art Center
(503) 338-2498
Royal Nebeker Art Gallery
The GIANT Give: Creative Community Connections in the Time of COVID
CCC's Royal Nebeker Gallery is partnering with Whitney's Giant Ass Cinnamon Roll efforts to support the Oregon Food Bank network.  The Clatsop Community College art program and Royal Nebeker Gallery have a rich and generous history supporting arts-based social action in our rural communities: from scholarship art auctions, to paintings-for-puppies to support Clatsop Animal Assistance; from sea turtle conservation to the Women's Resource Center Soup Bowl Project; these are just a few projects CCC faculty and students have supported in recent years. And now, during COVID-19, CCC's Kristin Shauck has reached across county lines collaborating with Portland artists/activists to combat food insecurity while offering purpose to lift the spirits of local artists.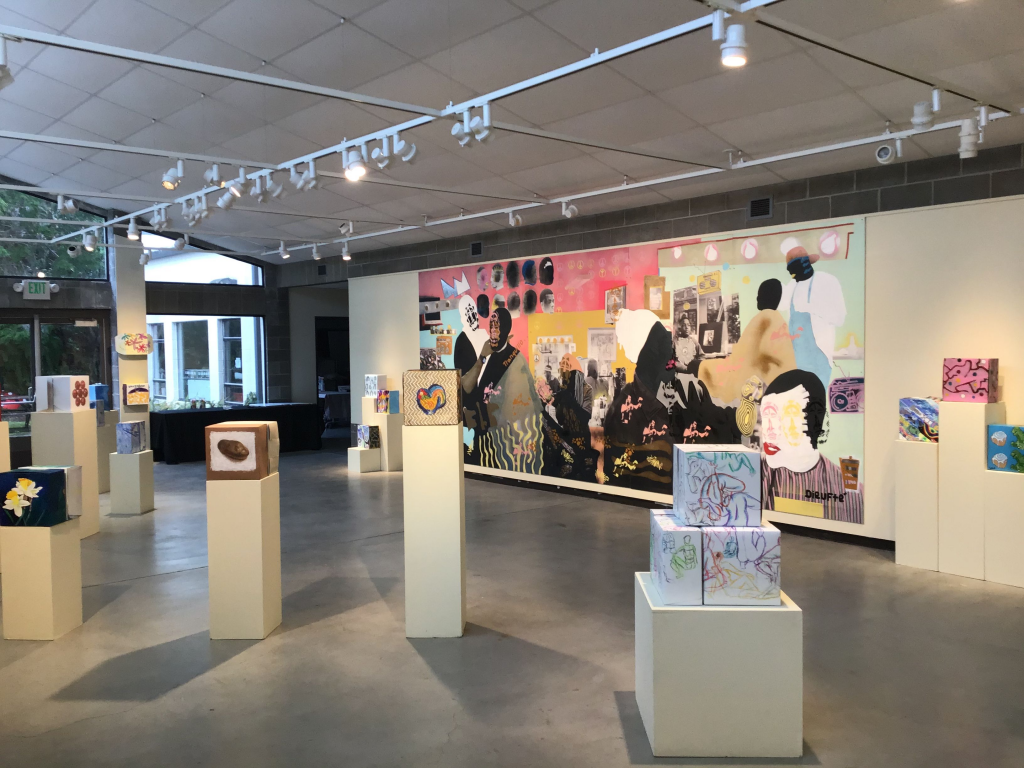 Currently on display at the Royal Nebeker Art Gallery through the end of April is a mixed media 20' x 8' painting by Modou Dieng and Devon A. VanHouten-Maldonado entitled 'Tranquillo' which was initially created and displayed at the Disjecta Gallery for the 2014 Portland Biennial.
Modou Dieng was born in Saint-Louis, Senegal. He is a multidisciplinary artist exploring the symbolic and mythological power of pop culture through mixed media and hybrid materials. His work constructs a mural of archetypal cultural imagery filtered through the perspective of a split identity between Blackness and Western Philosophy. Dieng has exhibited internationally and is the co-founder of Blackpuffin, a curatorial company, based in Chicago, IL. Dieng and AVA member Tim Janchar co-founded Worksound – a collective DIY art/performance/music space in Portland that operated from 2007-2017. Dieng holds an MFA from the San Francisco Art Institute (San Francisco, CA). 
The gallery hours are from 10:00 a.m. – 4:00 p.m. Monday through Friday, and on weekends and holidays by appointment only. Guests must wear face coverings and practice social distancing.  No more than 6 guests may enter the gallery at a time.  For more information, please contact Kristin Shauck at 503-338-2472.
The CCC Royal Nebeker Gallery,  established in 1979 and uniquely overlooking the Columbia River, is an important community-gathering place and forum for critical, contemporary art dialogue. Formally named the CCC Art Gallery, it was renamed in the 2015-2016 Academic Year in honor of artist, teacher and mentor Royal Nebeker.
The Gallery is dedicated to:
Sustaining and promoting contemporary art and visual culture through exhibitions and programming, which creates a stimulating environment conducive to learning and creative expression.

Enriching the cultural life of the campus, the local community, and the North Coast region.

Providing local and statewide leadership in the exhibition of contemporary art through regional, national, and international exhibitions.

Enhancing visual literacy and critical thinking while promoting the highest professional standards of artistry and craft.
Fusing our instructional programs in the Arts and Humanities directly to the cultural vitality of the community.