Clatsop Community College Foundation
On Tuesday, September 21, the CCC Foundation invited Sally Bany, Co-Founder and Board President and other representatives from the World of Speed Museum to a celebration luncheon. The total gift received from World of Speed in support of automotive education at Clatsop Community College is $430,000.
Members of the CCC automotive department, local business partners and the Foundation developed, reviewed and supported the plan to provide 6 scholarships annually to students enrolled in automotive related certificate and degree programs at CCC, which are renewable to complete a 2 year automotive program. In addition, tools and work shirts will be provided annually to 15 students that they will be able to keep upon graduation.
Under this plan, the World of Speed gift is expected to provide this level of support through June 30, 2031, which equates to a minimum of 102 annual scholarships for automotive students and tools and work shirts for 135 automotive graduates. 
The World of Speed gift and promotion of this scholarship program has been "lane-changing" for the CCC automotive program. Student enrollment for 2021-22 demonstrated a transformative increase from 7 to 15!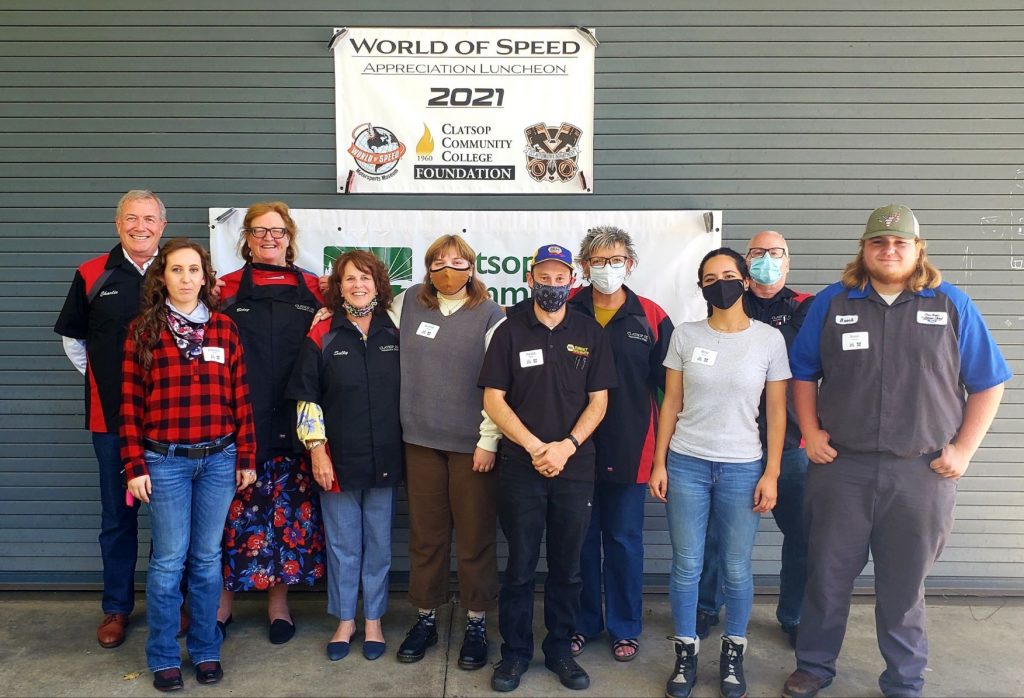 Representatives from World of Speed and the first student scholarship recipients. Pictured from left to right: Charlie Waibel, Elizabeth Braim, Jody Stahancyk (CCC College of Ed Board), Sally Bany, Summer Dyrset (student), Patrick Beeler (student), Mary Jaeger, Brisa Bravo (student), Thad Nolan (CCC Instructor), Brock Nielsen (student).
Thank you also to Senator Betsy Johnson for ALL of your effort to include the Clatsop Community College Automotive Program with this gift. We are honored to carry the torch and continue the automotive education mission of World of Speed!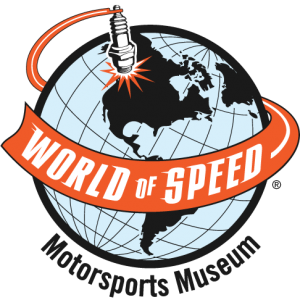 Through the development and expansion of community partnerships, the CCC Foundation is working to extend automotive student support from the World of Speed gift beyond June 2031!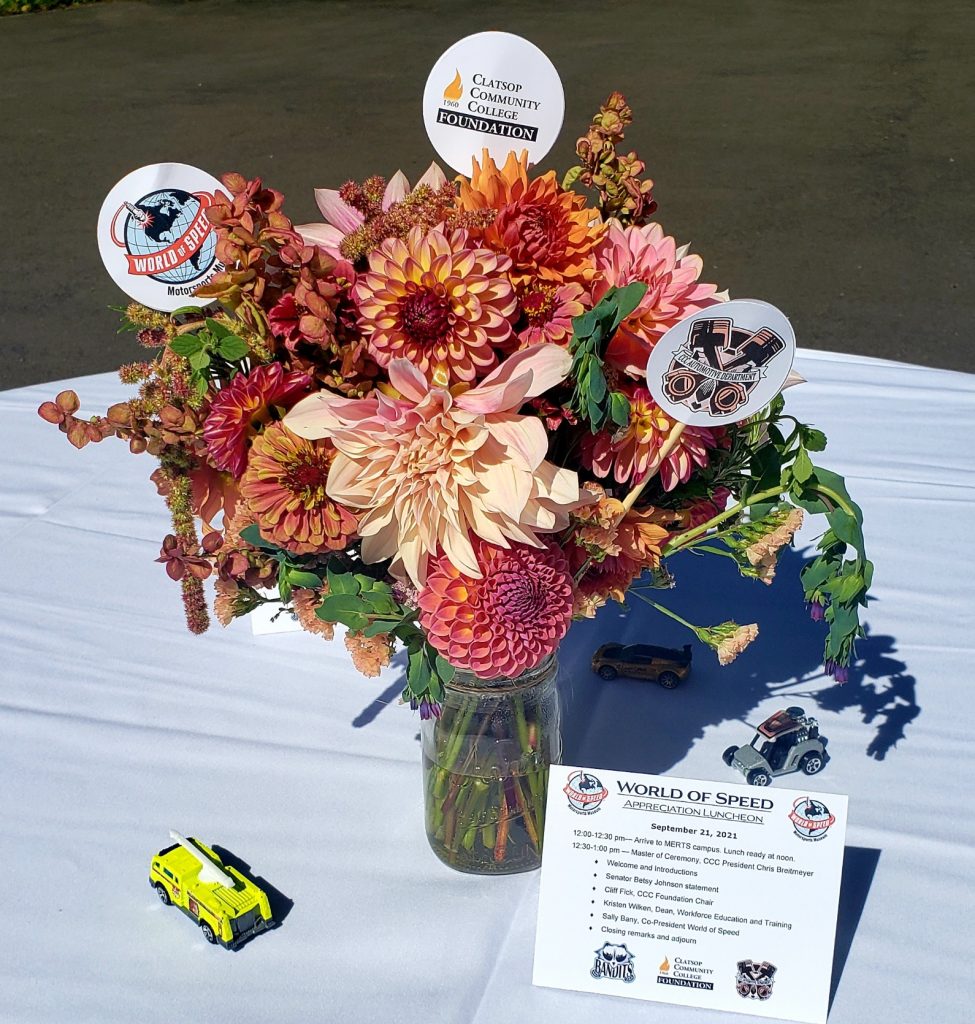 Thank you 46 North Farm for the lovely flower bouquets and Fulios Catering for the delicious lunch!
Chris Breitmeyer (Clatsop Community College President) and other leadership members of the college along with two College of Ed Board members, Automotive Advisory Committee members, and the first World of Speed Scholarship recipients enjoyed the sunshine and presentations at the CCC MERTS campus. Hear the presentations made by President Breitmeyer on behalf of Senator Betsy Johnson, Cliff Fick (CCC Foundation Board Chair), Kristen Wilken (CCC Dean of Workforce Education), and Sally Bany (World of Speed Co-Founder and Board President). 
2021 BANDIT BIKING FOR BOOKS-UPDATES
Thank you for joining us this past summer on our Bandit Biking for Books adventure to raise money to help CCC students with the cost of textbooks.  This event featured CCC instructor, Fernando Rojas Galván, riding his bicycle nearly 1600 miles in a loop of Oregon to visit all 17 community colleges across the state.
The Clatsop Community College Foundation has a long history of providing scholarships for individual students. Recently, we have also found that most students have many other substantial needs, including textbook costs.
Average cost of 1 text books is $100
Average cost of textbooks for 1 year as a full-time enrolled student is $1,590.
Thanks to all of our partners, $66,000 was raised from Bandit Biking for Books. From this support, the CCC Foundation is providing over 500 students with a $100 Bandit Book Bucks credit that will be posted to their accounts for Fall term.
Together, we are making a difference in the lives of Clatsop Community College students and helping them achieve their goals.
Thank you for partnering with the CCC Foundation and supporting our students.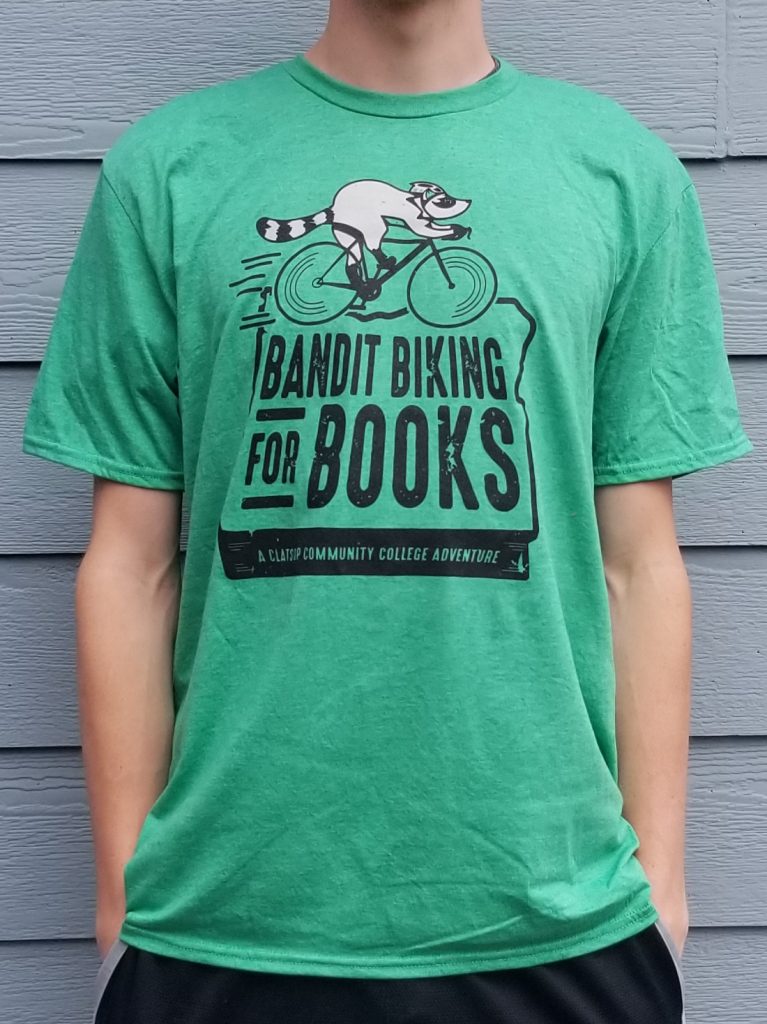 Bandit Biking for Books T-shirts @ $25 each
BUY one before they are GONE!
Available ONLY for local pick-up from the CCC Foundation Office  at 1651 Lexington Avenue, Astoria, OR
OR
PURCHASE  & PICK UP from the CCC Bookstore.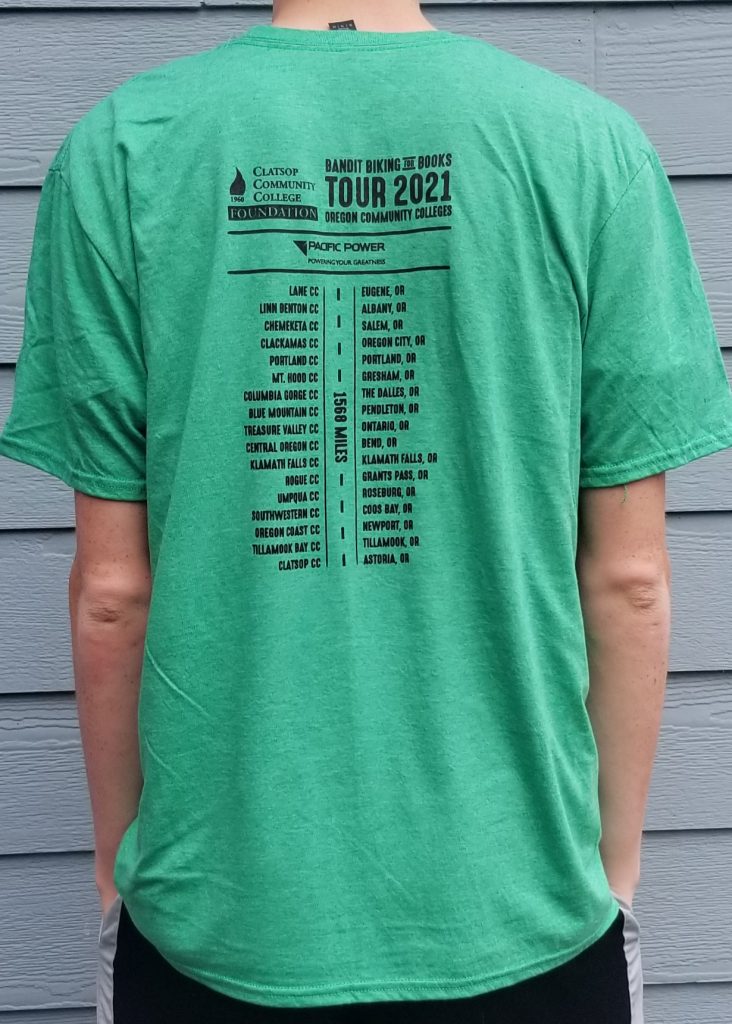 At the Clatsop Community College Foundation, we believe our entire community benefits when every student has access to the tools and resources they need to help them succeed in school and in life.
Our mission is to inspire and engage the community in support of Clatsop Community College students so students can achieve their goals.
The CCC Foundation is a 501(c)(3) nonprofit corporation. Contributions to the CCC Foundation are tax deductible to the full extent of the law.
Monthly gifts make a BIG impact for CCC students:
$10 monthly gift  = tuition for one credit hour ($120 a year)
$45 monthly gift = books and supplies for one student per term ($540 a year)
$50 monthly gift = average cost for a Emergency Student Needs Scholarship ($600 a year)
$120 monthly gift = full tuition and fees for one student for one term ($1,440 a year)
$135 monthly gift= books and supplies for one student for one year ($1,620 a year)