Clatsop Community College is proud to announce the Outstanding Student Scholars for 2019, Leland Weideman of Seaview, WA and Avery Anderson of Jewell, OR. Faculty and staff nominate students whom they believe are most outstanding in terms of excellence in the classroom, general intellectual curiosity, service to the college and their community, and the ability to share their talents with others.
The two finalists were honored with a trip to Salem for a luncheon with student scholars selected by other Oregon community colleges and their presidents on April 26th. They were presented to the House and the Senate where the governor meets each scholar individually and presents them with medals noting their academic accomplishments. They will also receive an Oregon transfer scholarship.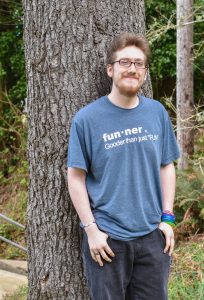 Leland Weideman is in his second year at Clatsop Community College working towards an Associate of Arts Oregon Transfer degree. He is on the Dean's list for his outstanding 4.0 GPA and also received the Information Literacy Prize last year through a writing competition through the CCC Library. Leland's family support to pursue an education has helped him achieve this success he has had thus far. He states, "My parents weren't exactly the schooling type, but when they saw the potential in me they gave it their all to ensure that I kept my education going. So here I am with a strong 4.0 GPA in the first two years of college. While I may not know how many more years I have to go, I know that as long as I keep my head up and my brain sharp, I can accomplish anything."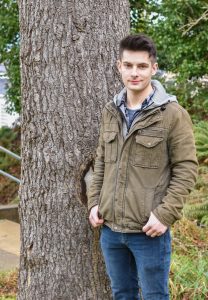 Avery Anderson will be graduating with an Associate of Arts Oregon Transfer degree and plans to transfer to Oregon State University. Avery's passion for education is evident with his participation and membership in Phi Theta Kappa and has consistently made the Dean's list at CCC as well as the Honor Roll. While Avery is still in his second year of classes, he can already claim to be a CCC alumni, "I graduated high school in 2015 and over the next two years learned to weld and earned an Associate degree in Welding/Fabrication in 2017. I returned to Clatsop once again the following year and began my pursuit of a STEM degree. I'm now in my second year of my transfer degree with the hope of eventually pursuing a career in astrophysics."
Pat Keefe, CCC's Physics Instructor, coordinates the Outstanding Student Scholar selection process, which is sponsored by the Oregon Community College Association. For further information, please contact Pat at 503-338-2434.
---
Non-Discrimination Declaration It is the policy of Clatsop Community College that there will be no discrimination or harassment on the grounds of race, color, sex, gender, marital status, religion, national origin, age, sexual orientation, gender identity or expression or disability in any educational programs, activities, or employment. Questions or complaints should be directed to Leslie Hall, Affirmative Action/Gender Equity (Title IX) Officer, Towler Hall, Suite 110, lhall@clatsopcc.edu(link sends e-mail) 503-338-2450; TDD 503-338-2468. The Title II/Section 504 Coordinator, Shelly Alford, is located in Towler Hall, Suite 312C, salford@clatsopcc.edu(link sends e-mail) 503-338-2474.
Accommodations Persons having questions about or a request for special needs and accommodation should contact JoAnn Zahn, Vice President of Finance and Operations, at Clatsop Community College, 1651 Lexington Avenue, Astoria, Oregon 97103, Library Suite 110, jzahn@clatsopcc.edu Phone (503) 338-2421 or TDD (503) 338-2468. Please send special needs and accommodations requests here. Contact should be made at least two business days in advance of the event.
Declaración de no-discriminación Es la política de Clatsop Community College que no habrá ningún tipo de discriminación o acoso por razón de raza, color, sexo, género, estado civil, religión, origen nacional, edad, orientación sexual, identidad de género o expresióno discapacidad en los programas educativos, actividades o en la contratación. Preguntas o quejas deben ser dirigidas al Leslie Hall, Oficial de Acción Afirmativa / Título IX localizado en Towler Hall número 110, lhall@clatsopcc.edu(link sends e-mail) número de teléfono 503-338-2450, TDD (discapacidad auditiva) 503-338-2468. El Coordinador de la Titulo II/Sección 504, Shelly Alford, se encuentra en Towler Hall, numero 312C, salford@clatsopcc.edu número de teléfono 503-338-2474. Para ADA y otras peticiones de servicios llame al 503-338-2474 o para TDD (discapacidad auditiva) 503-338-2468.
Ayuda a personas discapacitadas En cuanto a las personas discapacitadas, se les pide que se comuniquen con JoAnn Zahn, la Vice Presidente de Finanzas y Operaciones en Clatsop Community College, 1651 Lexington Avenue, Astoria, Oregon 97103, Library Suite 110, jzahn@clatsopcc.edu(link sends e-mail) número teléfonico (503) 338-2421 o a TDD (503) 338-2468. Haga el favor de notificar a la oficina para que se le pueda proporcionar apoyo. La comunicación debe tomar lugar por lo menos dos días de trabajo antes del evento por el cual se requiera tal ayuda. Para más información, vea la página Web de Clatsop Community College bajo Información en Español.