The Clatsop Community College Royal Nebeker Art Gallery will open its 2019/2020 exhibition season with a three-person show entitled Three Artists:  Three Journeys, featuring visiting artists Tom Jensen from Everett, WA; Beth Kehoe from Lake Forest Park, WA; and Drea Frost from Cannon Beach, OR.   All three artists were selected to exhibit in the 2019 international competition Au Naturel by writer, editor, and curator Ashley Stull Meyers.  The show will run from September 23rd through October 24th, with a reception for the artists scheduled for Thursday, October 17 at 6:00 p.m. The gallery reception and exhibit are free and open to the public.  
Drea Frost holds a BFA from Oregon College of Arts and Crafts and exhibits her work at White Bird Gallery in Cannon Beach and RiverSea Gallery in Astoria. She explains that her goal for this show was to "create a body of work that dances between abstraction and realism." Working in acrylic and mixed-media on wood panels, her intention is to communicate "intimate stories" as well as to focus on the "human relationship with the environment" inspired by the beautiful Northwest landscape, which she describes as "a place that invokes child-like wonder and awe."   In her artist statement, she also explains that "the place we live has the power to create memories that live within us in the most dream-like way."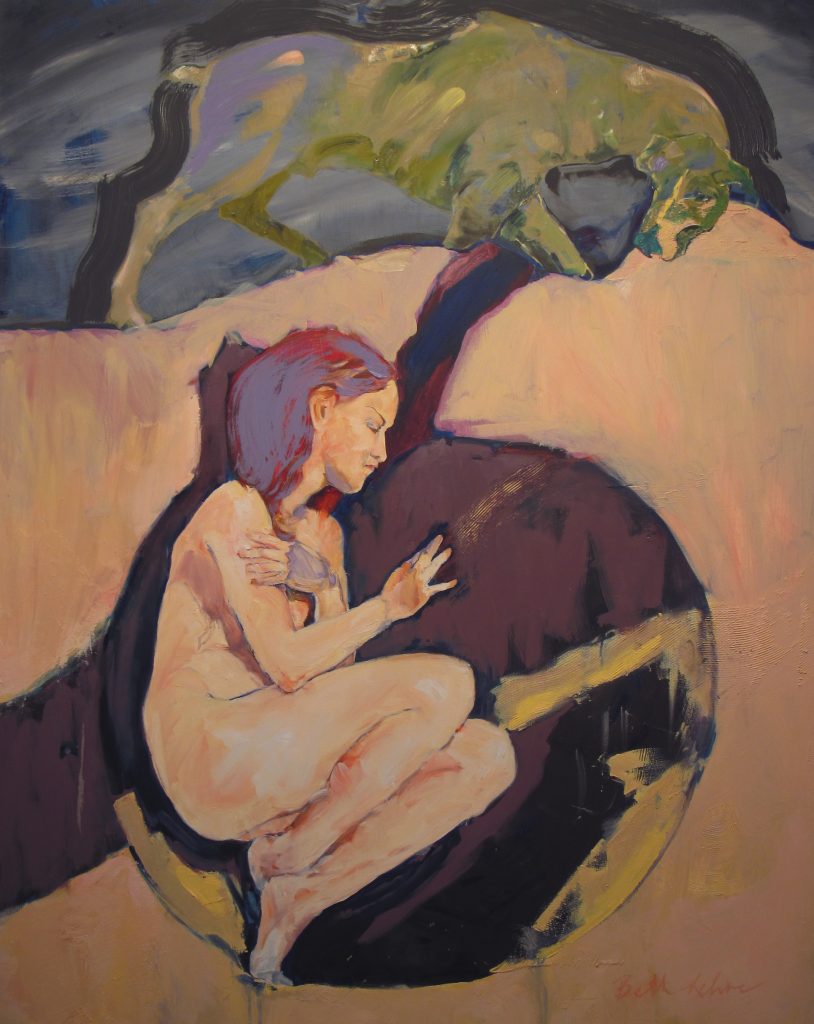 Beth Kehoe is an award-winning artist who has 20 years of experience creating and exhibiting unique ceramic pieces in major art fairs and art galleries in Washington and Oregon.  Subsequently, she shifted her creative focus to painting and studied at the Gage Art Academy in Seattle with a special focus on drawing the human figure.  Beth describes her work as "life-sized paintings of the human figure set in the wilderness."  Her paintings also have a strong narrative sensibility.  She explains that her approach is to use "color, intuition and gestural strokes of the paint brush as a direct interpretation of my own experiences backpacking through the wilderness."  She hopes that her paintings will "entice the viewer with images that are direct and beautiful, disturbing and quiet."
Although he describes himself as a self-taught artist, Tom Jensen's resume is very impressive.  He was a Technical Illustrator for Boeing for 30 years while periodically free-lancing as a graphic artist in commercial advertising.  He has won many awards in art competitions, served as the artistic advisor for the Edmunds Art Festival for ten years, and has juried many art competitions.  In addition, he is represented in private collections throughout the Northwest.  Tom professes a life-long love of drawing and explains that he has found the practice of drawing to be an effective means to center himself during difficult times.  Delving into painting later on in life, he found great inspiration in the work of Edgar Degas. He discloses in his artist statement that he is "endlessly curious about materials and technique."  He also states, "What I produce and how I produce it is in constant flux. It is exceedingly difficult for me to produce the same style of work over and over."
There will be two workshops held in conjunction with the show:   Tom Jensen and Beth Kehoe will be leading a workshop called " Beth And Tom Argue About Art" in which the two artists will discuss the advantages of having a friend who is willing to provide open, honest and direct feedback.  This workshop will be held on Friday, October 18th from 10:00 a.m. until 2:30 p.m. with a half-hour lunch break.  Drea Frost will be leading a workshop called "Collage Transformation" in which participants will paint various papers in abstract designs and then use these hand-painted papers to create nature-inspired collages.   This workshop will be held on Monday, October 21st from 10:00 a.m. to 2:30 p.m. with a half-hour lunch break.  Both workshops will take place in Room 101 of the CCC Art Center and are free to CCC students enrolled in fall term art classes and open to the general public for a $25 fee. Space is limited and pre-registration is required. For further details about these workshops, a materials list, and to register, contact Kristin Shauck by phone (503-338-2472) or e-mail kshauck@clatsopcc.edu.  
The CCC Royal Nebeker Gallery and the Drawing/Painting Studio are ADA accessible. Both are located at 1799 Lexington Avenue in Astoria. The gallery hours are from 9:00 a.m. – 5:00 p.m. Monday through Friday, and on weekends and holidays by appointment only. For more information, please contact Kristin Shauck at 503-338-2472.
---
Non-Discrimination Declaration It is the policy of Clatsop Community College that there will be no discrimination or harassment on the grounds of race, color, sex, gender, marital status, religion, national origin, age, sexual orientation, gender identity or expression or disability in any educational programs, activities, or employment. Questions or complaints should be directed to Naomi Garbutt, Affirmative Action/Gender Equity (Title IX) Officer, Towler Hall, Suite 110, ngarbutt@clatsopcc.edu  503-338-2450; TDD 503-338-2468. The Title II/Section 504 Coordinator, Shelly Alford, is located in Towler Hall, Suite 312C, salford@clatsopcc.edu  503-338-2474.
Accommodations Persons having questions about or a request for special needs and accommodation should contact JoAnn Zahn, Vice President of Finance and Operations, at Clatsop Community College, 1651 Lexington Avenue, Astoria, Oregon 97103, Library Suite 110, jzahn@clatsopcc.edu  Phone (503) 338-2421 or TDD (503) 338-2468. Please send special needs and accommodations requests here. Contact should be made at least two business days in advance of the event.
Declaración de no-discriminación Es la política de Clatsop Community College que no habrá ningún tipo de discriminación o acoso por razón de raza, color, sexo, género, estado civil, religión, origen nacional, edad, orientación sexual, identidad de género o expresióno discapacidad en los programas educativos, actividades o en la contratación. Preguntas o quejas deben ser dirigidas al Naomi Garbutt, Oficial de Acción Afirmativa / Título IX localizado en Towler Hall número 110, ngarbutt@clatsopcc.edu(link sends e-mail) número de teléfono 503-338-2450, TDD (discapacidad auditiva) 503-338-2468. El Coordinador de la Titulo II/Sección 504, Shelly Alford, se encuentra en Towler Hall, numero 312C, salford@clatsopcc.edu número de teléfono 503-338-2474. Para ADA y otras peticiones de servicios llame al 503-338-2474 o para TDD (discapacidad auditiva) 503-338-2468.
Ayuda a personas discapacitadas En cuanto a las personas discapacitadas, se les pide que se comuniquen con JoAnn Zahn, la Vice Presidente de Finanzas y Operaciones en Clatsop Community College, 1651 Lexington Avenue, Astoria, Oregon 97103, Library Suite 110, jzahn@clatsopcc.edu número teléfonico (503) 338-2421 o a TDD (503) 338-2468. Haga el favor de notificar a la oficina para que se le pueda proporcionar apoyo. La comunicación debe tomar lugar por lo menos dos días de trabajo antes del evento por el cual se requiera tal ayuda. Para más información, vea la página Web de Clatsop Community College bajo Información en Español.