At the Clatsop Community College Foundation, we believe our entire community benefits when every student has access to the tools and resources they need to help them succeed in school and in life.
Our mission is to inspire and engage the community in support of Clatsop Community College students so students can achieve their goals.
The CCC Foundation is a 501(c)(3) nonprofit corporation. Contributions to the CCC Foundation are tax deductible to the full extent of the law.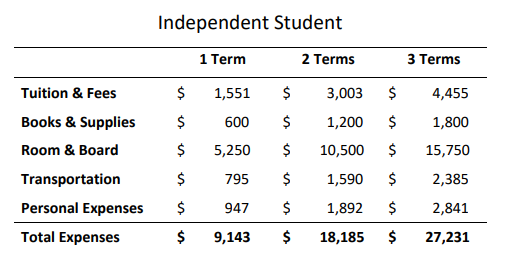 For students living with their parents, the total cost of attendance per term is $5,105. The total cost to attend three terms is over $15,000 a year.
In addition to covering the cost of tuition, fees, books and supplies, basic needs like housing, food and transportation are financial barriers for CCC students working to complete their education.

Monthly gifts make a BIG impact towards helping CCC students achieve their goals:
$10 monthly gift  = tuition for one credit hour ($120 a year)
$30 monthly gift = tuition for a three credit class ($360 a year)
$50 monthly gift = books and supplies for one student for 1 term ($600 a year)
$125 monthly gift = full tuition and fees for one student for one term ($1,500 a year)
$150 monthly gift= books and supplies for one student for one year ($1,800 a year)
Allyn Washington (Transfer in Computer Science, Engineering, Mathematics, Physics, or Chemistry)
Amelia Kuitert memorial Endowment
James Hill Memorial (biology, fish, or wildlife sciences)
Sue Richardson Memorial (Math Education, Math, Education, Physics, or another science; excluding Nursing)
Lum's Auto Center
World of Speed
Judy Hogan Art
CCC Visual Art
Emmett D. Towler
Barbara Knutsen Charitable Foundation
CCC Foundation Opportunity
ESL/Adult Basic Education
Fertig
Michael Ferguson
Mary Wood Memorial
Raven
Rochester
Arline & Cliff LaMear
CCC Foundation
CCC Success & Opportunity
Chet & Edie Hogan (2nd year)
Dr. John & Mrs. Jan Swanson (2nd year)
Dwight T. Holland Memorial
Funland Entertainment Center
Greg Dorcheus
Megan Samuel Memorial
Memorial
Sally and Nestor Leino Memorial
Sara Shawa
Steven Mund (graduates from Clatsop County high schools)
Warfield & Elizabeth Martin  (2nd year, career plans in teaching)
Brenda Penner & Steve Forrester
Carol P. Schwartz
CMH Auxiliary Nursing
Columbia Memorial Hospital
Healthcare Diversity
Jesse T. Whitehead Memorial
Laurie Choate Memorial
Lorraine Rodriguez Memorial
Meredith Fick Memorial
Providence Seaside Hospital
Merriam Shawa Nursing
The Next Step
CPP Historic Preservation
Hal Snow
Allan and Marie Gann
Chief Petty Officers Association Lower Columbia River Chapter
Maritime Industry Helping Hand
Desmond
Nehalem Bay Emergency Services
Step to Success (CTE)
2021-2022 CCC Scholarships
-> Over $250,000 in endowed and annual scholarship funding was available for CCC students.
-> 106 total scholarships were provided.
-> $300-$5,000 is the range of individual scholarship amounts. 
-> $13,794 is the cost of full time attendance, including tuition, fees, books, room and board, transportation, and other education related expenses.
**Help us reach our goal to provide a scholarship to all qualified CCC students who apply.
2022-2023 CCC Scholarships
New Scholarship Funds:
Arline & Cliff Lamear (Certificate or Degree-seeking, first generation preferred)
Carol P. Schwartz (Nursing)
Maritime Industry Helping Hands
Thank you to ALL of our scholarship supporters.
Your gifts help CCC students have access to the tools and resources they need to help them succeed in school and in life!