Schedule an appointment with us

Director, Jon Graves
Office: (503) 325-2898
Email: jgraves@clatsopcc.edu
Office hours:
Mon.-Fri., 8:00 am-5:00 pm
—–
Dear Talent Search and Upward Bound Students and Families,
Our staff is working and here to try to answer questions and talk with you.  The easiest ways to reach us is by clicking on the Schedule an Appointment button above or the email addresses listed below. Again, we are here for you in these troubling times. We might not have all the answers, but please be helpful.  Keep washing your hands!
Peace-
Jon Graves, Pre-College TRIO Director

Andrea Gonzalez
College/Career Advisor at
Astoria High School
Cell #503-446-3818
Email: agonzalez@clatsopcc.edu

Troy Henri
College/Career Advisor at
Warrenton High School
Warrenton Middle School



Cell #503-349-9668
Email: thenri@clatsopcc.edu

Shane Robinson
College/Career Advisor at
Seaside High School
Cell #541-870-1085
Email: srobinson@clatsopcc.edu
Upward Bound (UB) at CCC serves 73 students from 9th – 12th grade in cooperation with the Astoria, Warrenton and Seaside school districts. Our mission is to help students gain the knowledge and skills to succeed in high school, go on to college and graduate college. We recognize that parent, school and community involvement are crucial to the success of the program and the students.  Clatsop Community College's Upward Bound program is 100% funded by a US Department of Education grant in the amount of $353,059.  
Watch our virtual campus tours
Overnight April 14-15, 2022 Upward Bound Trip to Blue Mtn. CC & Eastern Oregon University 
for 10-12th grade students 
Blue Mountain Community College (BMCC) is a comprehensive community college located in Pendleton, a city of over 16,000, in eastern Oregon.  Established in 1962, it has an enrollment of over 1,800 and offers a student-faculty ratio of 16-to-1.   BMCC offers Associate degrees in Arts, Business, Computer Science and General Studies.  The Associates in Applied Science includes:
Accounting Early Childhood Education
Agriculture Production Engineering
Criminal Justice Fire Science
Diesel Technology Nursing
It also offer Certificates, and transfer degrees to four-year colleges.  The Pendleton campus includes a Distance Education Office for Eastern Oregon University. There are over 10 students clubs on campus & 6 athletic programs including basketball, soccer & rodeo. 
Eastern Oregon University (EOU) is a small public university founded in 1929 and located in LaGrande,  a city of over 13,000 in eastern Oregon.  EOU enrolls over 3,700 undergraduate students and with an average of fewer than 30 students in each class.  EOU offers a variety of  bachelor's degrees in Arts, Humanities & Social Sciences, Health Science, Business, Education & Nursing.  Majors offered include:
Agriculture Music
Biology & Chemistry Natural Resources
Economics Psychology
Exercise Science Theatre
You can choose from more than 50 active student groups, and a variety of intramural sports opportunities for recreation.  EOU also has NAIA intercollegiate teams in 8 sports.
For the full schedule, please click here.  En español, haga clic aquí.
For the permission slip, please click here.  En español, haga clic aquí.
Deadline for permission slips is 3:00 pm on Thursday, April 7.  Please turn it into your advisor or put it in their mailbox in the school office.
UB Summer Academy (6/21 - 7/29/2022)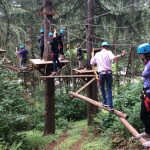 Upward Bound Summer Academy 
June 21 - July 29, 2022
We are excited to plan for the next Upward Bound Summer Academy (UBSA).  UBSA is daily (9:00 am - 3:00 pm, Monday-Thursday) at Clatsop Community College's main campus. with field trips on Fridays. 
9th-11th grade UB students are expected to attend and transportation & meals (breakfast & lunch) are provided.
UBSA is a college simulation program, providing students with intensive academic support and hands-on learning.  Students work in project groups designed to cover core subjects like science, writing and math in an experiential learning format.
Project Groups in the past have included Improv Theater, Stand Up Comedy, Wildlife Stewardship, Alternative Energy/Solar, Filmmaking and Creatures of the Columbia Chalk Murals.
It also includes instruction in:
Foreign Language 
Math 
Science 
English & Literature
To get an inside look at what a day at Summer Academy is like, please click on the video above -  "What is UB Summer Academy?".  If you have any questions or concerns, please contact your Advisor. We look forward to a great summer at UBSA!
Past Year - Project Groups:
Why Participate in Upward Bound?
Maximize their academic skills, succeed in high school classes and be prepared for college. 

Learn how to navigate the educational system -- all the requirements, deadlines and processes. 

Get in-depth information about career choices and educational options. 

Set individual educational and career goals and plans. 

Take and succeed in core classes that build a foundation for postsecondary education. 

Graduate from high school. 

Enroll in a postsecondary program and continue to graduation.
Upward Bound Program Information
Student Benefits 
Upward Bound helps students create a vision for their future success by offering: 
Academic support in the form of tutoring, supplemental workshops and educational planning; 

The opportunity to learn about a wide variety of career and educational opportunities by visiting work sites and colleges; 

The opportunity to develop self-management and leadership skills; 

The chance to attend cultural activities; 

Assistance with college admissions, financial aid and scholarship applications, and standardized test preparation; 
Help with planning appropriate classes in high school in order to ease the transition into post-secondary education.
Upward Bound Student Responsibilities
Students must commit to all aspects of Upward Bound in order to remain in the program. These include: 
Individual and Group Meetings: These meetings are for academic advising, educational planning, and other support activities and may be arranged by the program coordinator, by appointment, or by announcement. 

Supplemental Instruction: Students may be required to attend tutoring sessions or Saturday workshops to strengthen their academic skills. 

Upward Bound Summer Academy: All students are expected to participate in a summer program. Freshman, sophomore and junior students must attend the Upward Bound Summer Academy. This six-week program is an excellent opportunity for students to experience life on a college campus. The program offers hands-on learning; the opportunity to work with other students and community organizations; and academic support to prepare for the coming school year. 

Summer Bridge Program: Seniors are strongly encouraged to participate in the Summer Bridge program. This program pays for recent graduates to take summer classes at Clatsop Community College. This is a great way to get ahead before the freshman year of college.
How Does Upward Bound Help Parents?
Parent involvement increases students' success. We help parents take an active role in their student's success by: 
Being available to answer questions about high school achievement and college preparation; 

Providing parent informational workshops at key times in your student's high school career; 

Assisting with federal applications for financial aid and other important forms and applications.
Who is Eligible for Upward Bound?
Students enrolled in the 9th-12th grades at Astoria, Seaside and Warrenton High Schools who meet the following criteria: 
Have academic potential, but show demonstrated academic need; 

Plan to attend college; 

Meet federal income requirements for limited income families; or are first generation in their family to go to college (neither parent has a 4-year college degree); 

Will commit to participating in all aspects of the UB program.
Need help with math? Could you use a time and place to focus on homework? Upward Bound can help find tutoring as needed in math or other subjects. 
School-Sponsored  Tutoring Opportunities 
Most schools provide tutoring and homework labs. These sessions are generally open to anyone who attends the school, including Upward Bound students. Check with your school's principal or counseling office to find out if tutoring is offered. These are some of the currently scheduled sessions:
| School | Times & Locations |
| --- | --- |
| | Mondays, 1-4 p.m. in the Library |
| | Tuesdays, 1-4 p.m. in the Library and Spanish Classroom |
| | Wednesdays, 1-4 p.m. in the Library |
| | Thursdays, 1-5 p.m. in the Library |
Jon Graves, Director
Andrea Gonzalez, Astoria High School
Troy Henri, Warrenton High School 
Shane Robinson, Seaside High School
Tbd, Program Assistant
Katherine Johnson, PT Administrative Assistant