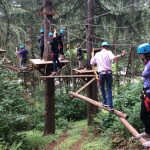 Upward Bound Summer Academy 
June 21 - July 29, 2022
We are excited to plan for the next Upward Bound Summer Academy (UBSA).  UBSA is daily (9:00 am - 3:00 pm, Monday-Thursday) at Clatsop Community College's main campus. with field trips on Fridays. 
9th-11th grade UB students are expected to attend and transportation & meals (breakfast & lunch) are provided.
UBSA is a college simulation program, providing students with intensive academic support and hands-on learning.  Students work in project groups designed to cover core subjects like science, writing and math in an experiential learning format.
Project Groups in the past have included Improv Theater, Stand Up Comedy, Wildlife Stewardship, Alternative Energy/Solar, Filmmaking and Creatures of the Columbia Chalk Murals.
It also includes instruction in:
Foreign Language 
Math 
Science 
English & Literature
To get an inside look at what a day at Summer Academy is like, please click on the video above -  "What is UB Summer Academy?".  If you have any questions or concerns, please contact your Advisor. We look forward to a great summer at UBSA!
Past Year - Project Groups: