The Clatsop Community College Royal Nebeker Art Gallery continues its exhibition season with a solo show titled The Space In Between by international artist Keri Rosebraugh, who will also be serving as the juror for this year's Annual Art Student Exhibit.
The show will open with a reception on Thursday, April 13 at 6 p.m. and will run through Thursday, May 11. The gallery reception and exhibit are free and open to the public and will showcase the permanent installation of Rosebraugh's sculpture the Trantler. This 12 foot tall piece was funded by a grant from the Oregon Coast Visitor's Association and was originally on display at the Sweetshop in Gearhart. The half bronze, half douglas fir sculpture is based on combining two predominant elements in the region: the wild elk that roam the area, and the timber industry that has been a cornerstone in the Pacific Northwest since 1848.
An Oregon native, Rosebraugh currently lives and works in Marnay Sur Seine, France and Los Angeles, California. She attained an MFA in Florence, Italy and is the co-director of L'Expressoir Artist Residency in Marnay Sur Seine, France. Rosebraugh has exhibited around the world, and her artwork is included in permanent collections at the Museo de Arte Contemporanea di Florina in Greece and the Hermann Nitsch Museum in Naples, Italy. She has created public art pieces in Los Angeles, California; Svalbard, Norway; Gearhart, Oregon; Baker, Oregon and Paris, France.
Rosebraugh will be conducting a workshop in conjunction with her show that will focus on human's relationship with nature and the various ways we listen to the world. Participants will launch individual projects based on the concept of negative space, which the artist describes as "the spaces in between – which may seem empty of forms, but full of formless intangibles as air, freedom, feeling, senses. These spaces are what changes how we see art and hold all the possibilities."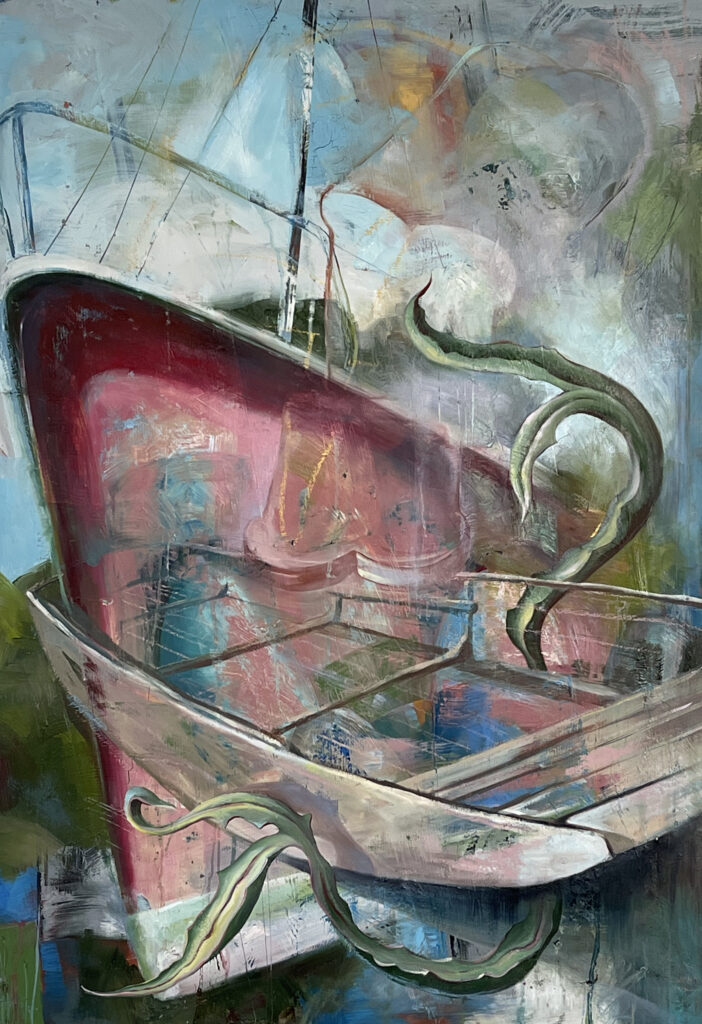 This workshop is scheduled for May 11th from 12:30 to 3:30 and is free to CCC students enrolled in spring term classes and open to the public for a $25 fee. Space is limited and pre-registration is required. For more details, a materials list, and to register, contact Kristin Shauck by phone 503-338-2472, or e-mail kshauck@clatsopcc.edu.
Rosebraugh describes her creative process as an act of "seeking connections between humans and examining how those parallel our relationship with the environment." She incorporates natural materials joined together with fabricated objects to establish a contact between man and nature. Each creation explores the human quest for comfort versus our need to live mindfully on the earth. The works are sometimes temporary, created using materials and elements on site which decompose in time – symbolic of the cycle and regeneration of our planet.
She also states, "My work is based on the exchange of ideas and resources, sometimes with direct participation by people as possible vehicles for social change. I have been studying specifically the fragility and strength of water and our dependence on this natural resource since 2015. Through my practice I nurture a discourse on human existence as a whole, its kinship to systems of control, time, and nature."
By bringing together a wide range of visual disciplines, including video, installation, painting, and sculpture, Rosebraugh "attempts to transcend the ruins of the past and the challenges of the present by offering a context that facilitates the analysis of our responsibility, needs and desires in a future unknown."
The CCC Royal Nebeker Gallery is dedicated to enriching the cultural life of the campus, the local community, and the North Coast region. Please join CCC in its mission to sustain and promote contemporary art and visual culture through professional exhibitions and programming.
The CCC Royal Nebeker Gallery, located at 1799 Lexington Avenue in Astoria, is ADA accessible. The gallery hours are from 10:00 a.m. – 4:00 p.m. Monday through Friday, and on weekends and holidays by appointment only. For more information, please contact Kristin Shauck by phone (503-338-2472) or e-mail kshauck@clatsopcc.edu.