Astoria, OR- One is restoring historic wood windows in Portland. Another is working for an Architectural Conservation company in Philadelphia. One is working for FEMA in New York, and yet another has started a restoration company in Astoria, OR. What do they all have in common? They are graduates of the Clatsop Community College Historic Preservation and Restoration program. The program teaches students historic preservation theory and trains them in hands-on building skills using both traditional and modern materials and techniques. Through the program students develop lifelong skills and appreciation for historic preservation to build their future on.
Sarah Sargent, from Bend, Oregon, is a graduate of the program who now works for FEMA in New York City as a full-time Historic Preservation Specialist. She has recently gotten her Master's degree in Historic Preservation from Columbia University, but counts her time at Clatsop as some of her most fulfilling. "I can honestly say that I consider attending the Historic Preservation and Restoration Program at CCC to be one of the best decisions of my life! It cemented my desire to become a preservation professional, and gave be a broad background that was incredibly useful in establishing my future career," she stated.
Through the hands-on approach of the program, Sarah got experience that set her apart as she continued her schooling and started in the workforce. "The program's practical approach helped prepare me for my master's degree and subsequent professional positions. Because of my time at Clatsop, I had a grasp of a range of preservation approaches: how to draft a National Register nomination; how to measure and document the current conditions of a building; how to begin to uncover how materials decay. The experience of being able to work with the material elements of a building directly helped me immensely later on. It is much easier to convince a client that a historic wood window can be saved when you know how to repair one yourself," she stated.
Another former student, Laura Keating, now works as a Conservation Technician aiding in renderings, documentation and field work for various projects in Philadelphia, PA. "What drew me to this program is that it included both the hands-on experience and paperwork aspects to the industry. I enjoyed the field workshops and computer design programs. The field experience aided with getting my foot in the door to a conservation company, and my abilities to professionally illustrate our work has allowed me to grow," Laura said.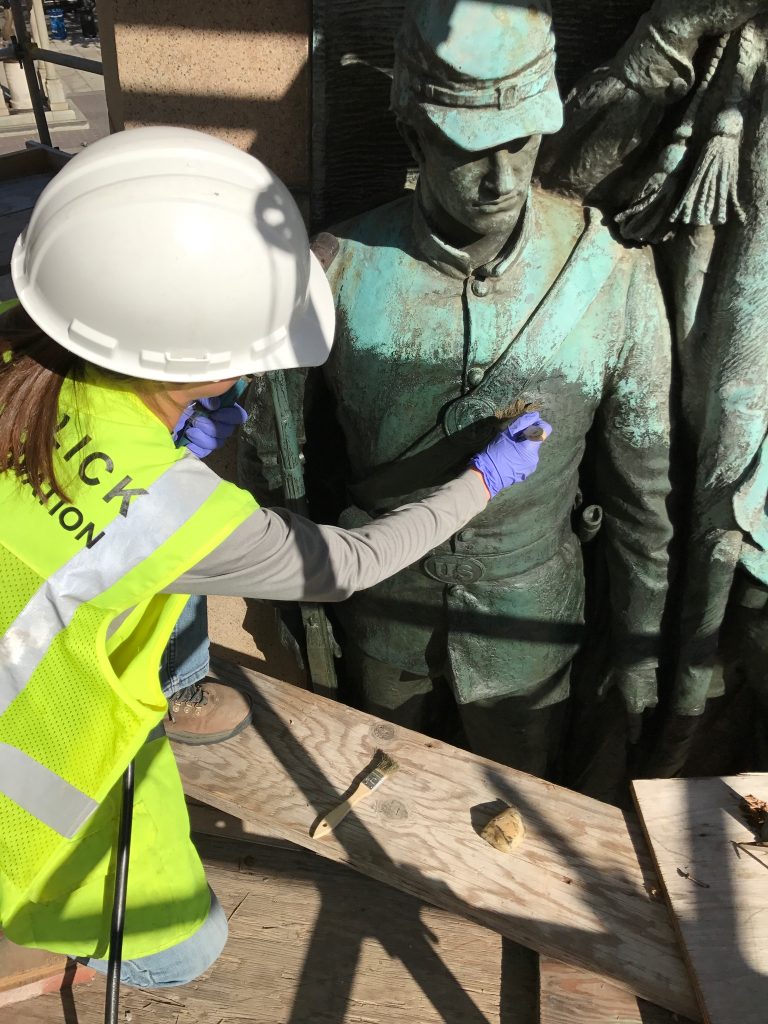 The programs and classwork that the Historic Preservation and Restoration program teaches prepares students for actual jobs. Laura found this to be true with the 3D design software. "I remember learning Sketchup and thinking how easy it was to create buildings and objects in 3D. Now, I use Sketchup for projects on a weekly basis to gain approvals and provide documentation on repair methodologies on sculptures, monuments and artifacts."
Laura looks back at her time at Clatsop fondly, knowing it gave her the start she needed to pursue her desired career. "This program allowed me to explore and gain experience in various aspects within Historic Preservation and Restoration. I enjoy working with my hands and being creative; this program allowed me to explore the possibilities and gain the skills I needed to get my foot in the door with a conservation firm. I would recommend this program to anyone interested in historic preservation, restoration or conservation of art and architecture."
CCC's Historic Preservation and Restoration program provides a broad context for students through a combination of classroom and hands-on instruction. Classes cover a wide variety of topics including preservation theory, architecture history, building assessment and documentation, drafting, green building, project management, and building codes. Workshops provide hands-on training in materials and techniques, such as woodworking, plastering, window restoration, rot repair, framing, blacksmithing, stone masonry, and stained glass.
CCC Historic Preservation Instructor, John Goodenberger, commented on the format of instruction, "We use Astoria and the surrounding area as our 'campus'. On weekends the students are out working on historic buildings learning hand skills. On weeknights, the students are in class, but using local buildings to learn about project management, green building techniques or preservation history and law."
The Historic Preservation and Restoration program began in 2009 after two years of planning by a grass roots group of business leaders, community members and college staff who saw a need for education in historic preservation. Astoria has the highest number of historic structures per capita in Oregon. Many of these buildings were in need of informed preservation and restoration work. The amount of work exceeded the capabilities of the skilled master craftspeople in the area. However, these craftspeople were willing to pass on their skills and knowledge to the next generation. This combination of building fabric and instructors provides a unique environment to train a new generation who can preserve and maintain historic buildings.
The Historic Preservation program has developed many regional partnerships with preservation organizations, government entities, and non-profits. They have worked on projects with partners such as Astoria Parks Department, Lower Columbia Preservation Society, City of The Dalles, Clatsop County Historical Society, and the National Park Service. These partnerships provide many and varied training opportunities, preservation projects, and future work for students while benefiting the community and preserving history. Astoria Parks and Recreation Director Jonah Dart-Mclean praises CCC's Historic Preservation and Restoration program for their assistance with local landmarks, "The Parks Department is fortunate to have this tremendous local resource to assist us in the care and restoration of our many historic sites and buildings. The Historic Preservation Program has provided us with services that otherwise would have cost thousands of dollars and has been a great partner on many grants for historic preservation projects."
CCC Historic Preservation and Restoration Instructor, Lucien Swerdloff, sees great value in working with local groups and organizations, "Partnerships with regional organizations allow us to extend our classrooms into the community to work on historic buildings. This lets students work on real problems and develop real solutions. They discover that preservation work is often like archeology, peeling away layers of historic fabric, learning about the history of a building, and practicing appropriate preservation techniques."
One project example, the Oceanview Abby, designed by Ellis F. Lawrence and built in 1914, has been a project site for several years giving the preservation program the opportunity to cultivate a partnership with the Astoria Parks Department. Students developed a historic structure report, assessed and documented the building, reconstructed missing stained-glass windows, repaired the original passive ventilation system, repaired damaged concrete, and reconstructed copper grilles. Through this project students were introduced to many aspects of preservation and helped to bring a deteriorated building back to its former condition and earned the praise of families with interments in the Abby.
Through the Historic Preservation Program students have become immersed in the field, connected to local history, and developed friendships with building owners and craftspeople, and fostered connections within the preservation community.
"It's always rewarding when they—particularly the local students—look up and remark, 'I had no idea there were so many beautiful historic buildings here.' The area and those teaching at the college inspire them to go out and do preservation well," stated Goodenberger.
This coming Winter term, class offerings will focus on methods to research, document and assess historic buildings; and will introduce residential building codes and how they apply to construction and preservation projects. Winter and spring hands-on workshops will include restoration of the historic Deep River Church (built in 1902), introduction to blacksmithing, woodworking techniques to reproduce window parts, and preservation techniques for historic grave markers (in the Hillside Cemetery that was used 1865-1900).
For more information about the Historic Preservation and restoration program contact Instructor Lucien Swerdloff at lswerdloff@clatsopcc.edu or 503-338-2301.
---
Non-Discrimination Declaration- It is the policy of Clatsop Community College that there will be no discrimination or harassment on the grounds of race, color, sex, gender, marital status, religion, national origin, age, sexual orientation, gender identity or expression or disability in any educational programs, activities, or employment. Questions or complaints should be directed to Desiree Noah, Affirmative Action/Gender Equity (Title IX) Officer, Lower Library, Suite 103, dnoah@clatsopcc.edu 503-338- 2450; TDD 503-338-2468. The Director of Student Access Services, Mallory Vollner, is in Columbia Hall, Suite 111, mvollner@clatsopcc.edu 503-338-2474.
Accommodations- Persons having questions about or a request for special needs and accommodation should contact JoAnn Zahn, Vice President of Finance and Operations, at Clatsop Community College, 1651 Lexington Avenue, Astoria, Oregon 97103, Lower Library Suite 110, jzahn@clatsopcc.edu Phone (503) 338-2421 or TDD (503) 338-2468. Please send special needs and accommodations requests here. Contact should be made at least two business days in advance of the event.
Declaración de no-discriminación- Es la política de Clatsop Community College que no habrá ningún tipo de discriminación o acoso por razón de raza, color, sexo, género, estado civil, religión, origen nacional, edad, orientación sexual, identidad de género o expresióno discapacidad en los programas educativos, actividades o en la contratación. Preguntas o quejas deben ser dirigidas al Desiree Noah, Oficial de Acción Afirmativa / Título IX localizado en Library número 103 dnoah@clatsopcc.edu número de teléfono 503-338-2450, TDD (discapacidad auditiva) 503-338-2468. Director de Servicios de acceso para estudiantes, Mallory Vollner, se encuentra en Columbia Hall, numero 111, mvollner@clatsopcc.edu número de teléfono 503-338-2474. Para ADA y otras peticiones de servicios llame al 503-338-2474 o para TDD (discapacidad auditiva) 503-338-2468.
Ayuda a personas discapacitadas- En cuanto a las personas discapacitadas, se les pide que se comuniquen con JoAnn Zahn, la Vice Presidente de Finanzas y Operaciones en Clatsop Community College, 1651 Lexington Avenue, Astoria, Oregon 97103, Library Suite 110, jzahn@clatsopcc.edu número teléfonico (503) 338-2421 o a TDD (503) 338-2468. Haga el favor de notificar a la oficina para que se le pueda proporcionar apoyo. La comunicación debe tomar lugar por lo menos dos días de trabajo antes del evento por el cual se requiera tal ayuda. Para más información, vea la página Web de Clatsop Community College bajo Información en Español.