Employee Giving
The annual employee giving campaign is an opportunity for us to show case the participation percentage from our campus community. The higher the percent, the greater the potential to leverage additional funding support for our students.
In 2020 for our Polar Plunge employee giving campaign, we reached 87% participation. This is an amazing demonstration of support from the faculty and staff at CCC. Gifts of any size from $1 to $100 count towards these efforts and helps support our students. There are a variety of scholarship and program fund options to direct your gift. Give online to the fund of your choice as a recurring monthly or one time gift. Or use this link to download the pdf form to make a gift from payroll deductions. Please contact the Foundation Office is there is a fund not listed that you would like to support 503-338-2306 or ahunt@clatsopcc.edu.
Go for GREEN
For 2021, the CCC Foundation invites team CCC to join us in Go for GREEN. The campaign concludes on Wednesday, October 27 with a Go for GREEN event. All who make a gift, regardless of size are invited to wear their favorite green shirt and help create a collaborative artwork. Participants will share their why or how they strive to inspire students at Clatsop Community College. As an extra "thank you", those who contribute a monthly gift of $5 or more or a one time gift of $50 or more will receive a green Bandit Biking for Books t-shirt.
Bandit Biking for Books
During the month of July, CCC instructor, Fernando Rojas Galván rode his bike 1600 miles in a loop around Oregon. His goals were to visit each of the 17 Oregon community colleges and raise funds to help CCC students with textbook costs. Thanks to his vision and grit, he helped the CCC Foundation raise $66,000 in textbook support for our students. As a result, this fall, a total of ### CCC students seeking certificates and degrees will each receive a $100 Bandit Book Bucks credit.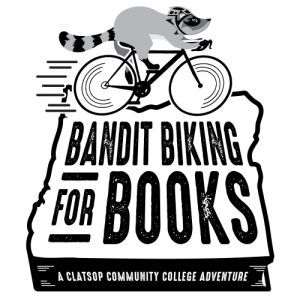 Keep the Cycle Going!
Please join our 2021 Go for GREEN campaign and help us exceed 87% in participation support!!
Thank you for ALL that you do to inspire and support our CCC students.